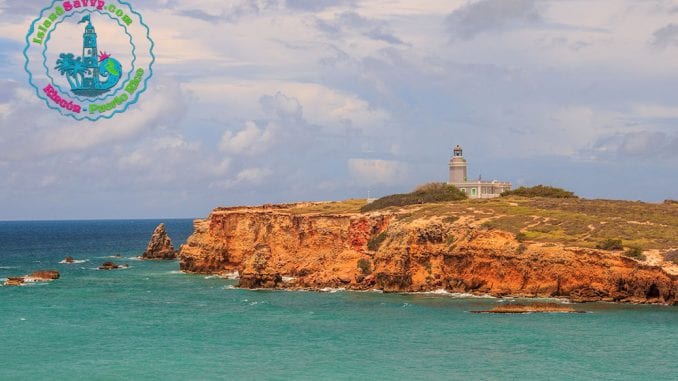 If you're familiar with Rincón, Puerto Rico, then you probably already know about the Punta Higuero Light, also known as Faro de Punta Higuero, a beautiful lighthouse atop a hill overlooking one of the famous surf and sun spots at Dome's beach.
But if you're ready to take a trip south along the coast to Cabo Rojo, you'll find yet another spectacular lighthouse atop limestone cliffs overlooking the Caribbean sea below. The lighthouse at Cabo Rojo, Faro de Los Morrillos or El Faro, is one of many jewels of the Cabo Rojo area, and one of Puerto Rico's many historical landmarks.
Built by the Spanish, it began operations in 1882 and was used to help guide ships from the Caribbean Sea through the Mona Passage and into the Atlantic. Simple in design, it stands as a reminder of when ships at sea depended on such structures to help lead them safely to port. Although still operational, it has been renovated over the years and is now fully automated.
The lighthouse, located next to one of the Cabo Rojo's more popular seaside destinations, La Playuela Beach, offers spectacular ocean views, comfortable hilltop hiking, access to local nature, a natural stone bridge (Puente de Piedra) and surrounding saltwater lagoons and marshes. Be prepared to take lots of pictures.
Located an hour and a half from Rincón, the Cabo Rojo lighthouse makes for a great day trip, especially when coupled with some chill time at La Playuela (Playa Sucia) Beach. But make sure you get there early, as parking can fill up quickly.
Access to the lighthouse is free to the public and opens from Thursday to Tuesday (check for major holiday schedules) from 9: am to 5: pm. There's a free trolley that runs from the lighthouse parking lot to the top of the hill – a short 10-minute ride – and park attendants are also available to answer questions. A public restroom is available inside. You can call 787-255-1560 for more information.
Visiting the Cabo Rojo Lighthouse – Faro de Los Morrillos
The view from the cliffs surrounding the lighthouse make for excellent photo shots, but be careful and don't venture too close to the cliff edge, as accidents can (and have) happened. You will also want to hike down the hillside leading to La Playuela Beach to get some nice shots looking back with the lighthouse atop the hillside.
There are no facilities outside of the lighthouse, so plan accordingly. Be sure to take lots of liquids, and make sure you follow the parking instructions to avoid being ticketed.