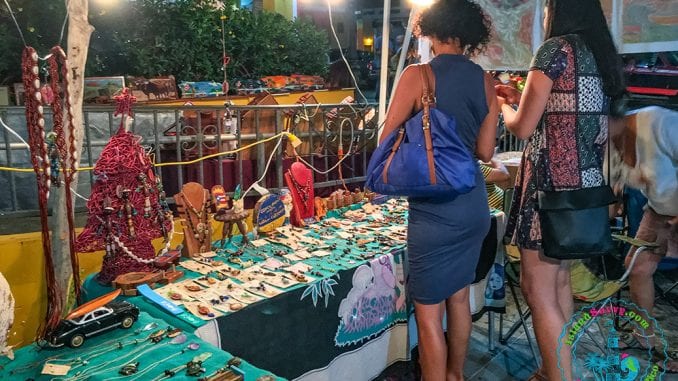 No holiday in Rincón, Puerto Rico can be complete without a visit to the Rincón ArtFest – a weekly event held in the town's central plaza – Plaza Pública.
The Rincón ArtFest is more than just a place to find local arts and crafts or to try traditional foods, desserts, and other baked goods. It also functions as the place to meet or be seen in Rincón – and pretty much regardless of the weather.
Every Thursday evening, starting around 5: pm, tents, and tables go up throughout the plaza, and the sound of people laughing or music playing begins to fill the air as residents and visitors mingle – shuffling through the crowds while scanning the local goods. There is a wide selection of handmade crafts to be found, as well as custom jewelry, one-of-a-kind art, clothing, food and more. You should bring cash if you plan on purchasing something since few merchants have the ability to accept credit cards – although that's not the case with most of the restaurants and shops that surround the plaza.
The Rincón Plaza also features an outdoor amphitheater-style setting with several rows of seating facing a large stage where musicians, dancers, and other local artists often perform. It's not unusual to have multiple performances from several artists over the course of an evening – depending on the time of year. So plan on spending at least a couple of hours to see all that the Rincón ArtFest has to offer.
And when you finish checking out the Rincón ArtFest, it's time to take advantage of the diverse dining and entertainment opportunities that make up the local scene and nightlife around the plaza. Several restaurants schedule live entertainment during ArtFest, and many of them offer drink and dining specials during the weekly event. Check out our weekly Entertainment Calendar for a listing of featured venues and performers.
Be sure to plan an evening at the Rincón ArtFest taking in the sights, sounds, tastes, and entertainment that help make Rincón a unique vacation destination in Puerto Rico.
ArtFest In Rincón Puerto Rico
The plaza offers ample opportunities for some excellent nighttime pictures - including the steeple of the Catholic church at the northeast end and the "Welcome" archway as you enter the plaza area on RT 115 from the south.
There are at least two ATM machines near the plaza - one in the bakery "Panaderia y Reposteria La Rincoeña" on the corner of Cll Progreso and Cll Parque streets next to Cafe 413, and one in the market right behind Friends Coffee stand on the opposite side of the plaza - near Rincón Beer Company. Avoid using Banco Popular ATM's as they charge up to $5 in ATM access fees, whereas the other two locations charge less than half that much.