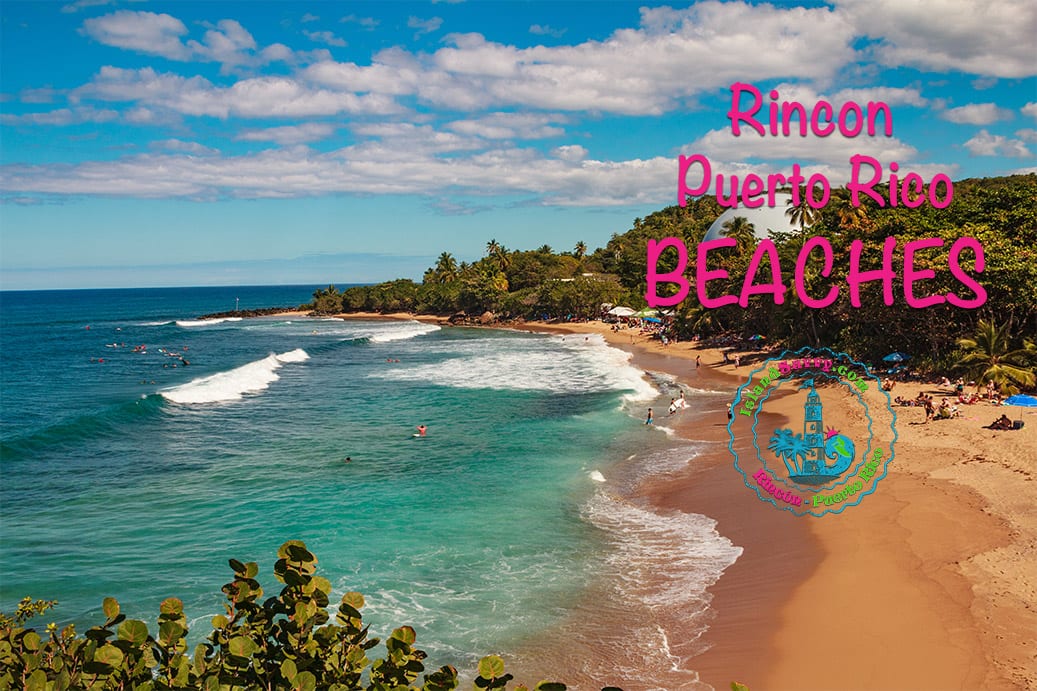 One of the exceptional qualities of vacationing in Rincón, Puerto Rico are its miles of beaches. From the north corner down to the south Caribbean coast beaches of Rincón, you'll find over 8 miles of intimate coastline relatively void of the typical resorts, condos, and traffic associated with other top Caribbean beach destinations.
Regardless if you're staying close to downtown or up in the Puntas area of Rincón, most Rincón beaches are perfect spots for swimming, snorkeling, and even surfing (depending on experience levels) – ideal for families, couples and even the lone adventurer.
North End Beaches
River Mouth Beach – to the east of Antonio's Beach and located next to the new Punta del Mar Beach Resort currently under construction, is a good spot for children to swim year around due to the tidal pools at this beach.
Antonio's Beach – to the east of Sandy Beach and just past Casa Isleña Inn is Antonio's Beach – perfect for families with kids or anyone looking for less beach action. Antonio's is also said to be a fabulous spot for finding "sea glass."
Sandy Beach – located in the Puntas area has a great selection of dining, entertainment, and lodging options and, during the season, offers a more active environment for late night entertainment. Popular with all types of beach goers, it is also home to the famous beach bar, Tamboo. And while swimming at Sandy Beach is usually perfect year around, be careful when the surf is high and watch for rip tides – which can make it a difficult place to swim, so be aware. Check with local businesses if you're unsure.
Pools Beach – a small and intimate spot perfect for swimming, snorkeling, sunbathing and even surfing for the more experienced surfers due to the rocky point. From Pools Beach you can hike west to Spanish Wall Beach and eventually Domes Beach.
Sunset Coast Beaches
Domes Beach – just past the Punta Higuero Lighthouse and El Faro Park, Domes Beach offers a long wide expanse of beach perfect for laying out, and some of the best waves in the Rincón area. Named after the big blue dome of the long-defunct Boiling Nuclear Superheater Reactor Facility (deactivated in June of 1968), Domes Beach is home to several annual surf tournaments. So bring a blanket or a beach chair, your umbrella, a cooler and your favorite surf or wakeboard and discover what the best surfers in the world found in 1968 when Domes and Maria's beaches were hosts to the 1968 World Surfing Championship.
Indicators Beach – just south of the Punta Higuero Lighthouse and El Faro Park, you will find a cliff area with plenty of parking and easy access to the beach below where you can watch surfers during the winter surf season – from December to March. Not known as a good spot for swimming due to the rocky shoreline, Indicators Beach can be very secluded in the off-season.
Maria's Beach – located south of Punta Higuero Lighthouse and El Faro Park, look for the Calypso Café & Tropical Bar parking lot, and you're there! One of the best spots in Rincón to surf, with great people-watching, and lots of shady trees so pick a spot and watch surfers hang ten.
Steps Beach & Tres Palmas Marine Reserve – named after the big block of concrete steps that make for a good picture prop, Steps Beach, which is part of the Tres Palmas Marine Reserve, is another excellent spot for surfing during the season. During the summer months when the water is calmer it's one of the more popular snorkeling destinations, so grab your gear and see if you can get lucky enough to spot a sea turtle or two.
Downtown Beaches
The Marina Beach – offers a small concrete boat landing and a beach area with shady palm trees and calm waters that make for excellent swimming, snorkeling, and paddle boarding. You'll also have access to a dive shop, dive tours, fishing and sailing expeditions, watersports rentals, and some of Rincon's finest restaurants.
Rincón Public Beach – the Rincón Balneario is an easy walk from downtown, with lots of free parking. A favorite with local families and Plaza area residents, it's just a short walk to the Sunset Village Center where you can find watersports rentals, gift shops and more. On the north end of the village center is the Harbor Restaurant, which offers a newly expanded beach bar gazebo, a panoramic viewing tower, and sea-side seating for some of the best dining, Rum Mojitos, Margaritas, cold beers, live entertainment, and sunset views in Rincón.
Corcega, Stella, and Rincón's South Caribbean Coast Beaches
Corcega Beach – stretching along the southern edge of the city of Rincón, past the Villa Cofresi resort, you will find miles of pristine sandy beaches lined with palm trees and clear turquoise waters perfect for swimming and all types of water sports. Take a stroll past private vacation homes and small inns that make up the neighborhood known as Stella, while you search for sea glass and other treasures washed ashore, and enjoy one of the most beautiful coastlines in the Caribbean.
Important: There are no lifeguards on any of the beaches in Rincón, so be sure to supervise children and inexperienced swimmers, or those needing assistance in the water.
Beaches in Rincón, Puerto Rico
Back  Next Places in Rincón, Puerto Rico…
Rincón, Puerto Rico Beach Map: