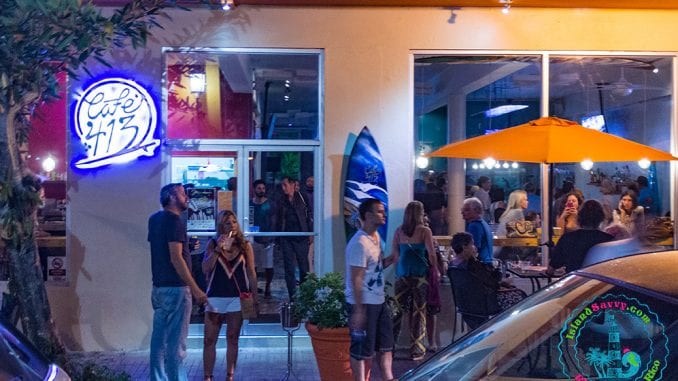 When you step into Café 413, one of the first things you'll notice is how cool it is.
Literally. It has excellent air conditioning!
But it's also a really "cool" place to hang out, too. The open floor plan and high ceilings make it appear larger than it is, while the decor includes warm tones and textures that highlight the local art and surf photography that enhances the walls – much of it from local photographer F. Javier Gil. It is at once both casual yet classy, and a great place to take a date or the whole family for breakfast, lunch or dinner.
With a friendly and attentive staff, Café 413 is a blend of coffee bistro and sports bar, where you can get a latte or healthy juice smoothie to start your day, or stop in to watch your favorite sporting event on one of the many large screen televisions strategically placed around the room. And on Sunday mornings and select evenings, the large stage area at the rear of the restaurant is host to some of the region's finest entertainment, including jazz, rock, pop, reggae and traditional Bomba music.
Celebrating Cinco de Mayo 2016 at Café 413 in Rincón, Puerto Rico. Featuring the Superstereos.
The menu at Café 413 includes the traditional breakfast fare such as eggs with bacon and toast, omelets, pancakes, and French Toast. For lunch and dinner, they offer a selection of hot and cold appetizers or tapas, including garlic butter Edamame, BBQ chicken wings, Naan pizzas, beef sliders, a choice of tasty wraps, and fish tacos. They also provide a selection of burgers, soups, and salads while also offering some substitutions for non-GMO and gluten-free food items. The menu is reasonably priced with specials on select nights and during happy hour.
Speaking of happy hour, Café 413 also provides a good selection of fine spirits, wines and craft beers, and the bartenders are very friendly and knowledgeable and make tasty local favorites like the Surfers Rum Punch or a traditional Mojito. But if an ice-cold Medalla is your favorite, then you're in luck.
Live performance of the reggae group Predator Dub Assassins performing at Cafe 413 in Rincón, Puerto Rico.
Owners, Enid and Deneb, continue to enhance the overall dining experience one can expect at Café 413, while also providing downtown Rincón with a refreshing dining and entertainment option for locals and visitors alike. So the next time you're in the plaza area, stop in and check it out for yourself. It's very, very "cool!"
Café 413 in Rincón, Puerto Rico
Address: Calle Progreso 157 Rincon, Puerto Rico
Phone: +1 939-697-8188
Cuisine: Multi-Cuisine
Serving: Breakfast, lunch, dinner, coffee and drinks
Parking: Street and parking lot parking
Payment: Accepts Most Major Credit Cards
Cost: $$
Services: 
Takes Reservations
Walk-Ins Welcome
Good For Groups
Good For Kids
Take Out
Catering
Waiter Service