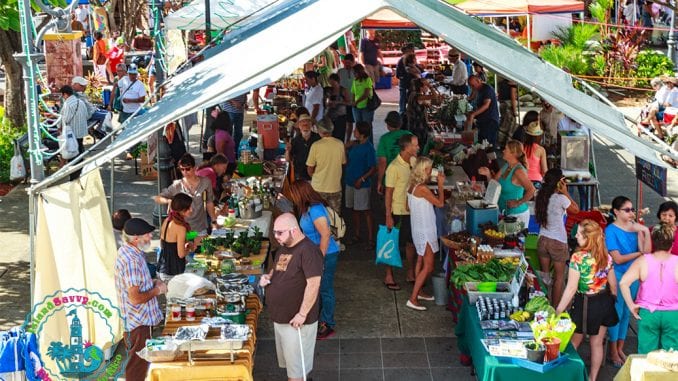 It's early morning in Rincón, Puerto Rico and while most residents have yet to crack an eyelid, the sound of the Catholic church bells ring – calling it's parishioners to the first of three Sunday morning services. In the town plaza, a large tent goes up, soon to be surrounded by many smaller ones.
The town square comes alive on Sunday mornings as residents and visitors begin to stroll through – buying everything from fresh herbs and vegetables to locally produced eggs, locally made cheeses, and avocados. You can also find plantain products, coconuts, chocolates, freshly baked bread or desserts, organic juices, oil extracts, vegan-friendly food items, and a variety of foods used in local dishes. The Rincón Farmers Market entices area chefs out of their kitchens to stock up for the coming week, while vacationers get to try samples of local food products – some for the very first time.
Soon the sound of laughter and people talking begins to fill the square, as friends and family catch up on local news and events. Some find a shady spot on one of the many benches in the plaza to enjoy their morning coffee or maybe a pastry from the bakery across the street, while the children play nearby. Others browse the tents of the local arts & crafts vendors who also frequent the weekly event. Some come for the overall vibe and to people watch and just enjoy being outdoors. And if you get hungry, there are several restaurants nearby that offer breakfast, brunch or lunch specials.
Whatever your reason, a trip to the Rincón Farmers Market is a local event you shouldn't miss if you have the time while visiting or staying in Rincón.