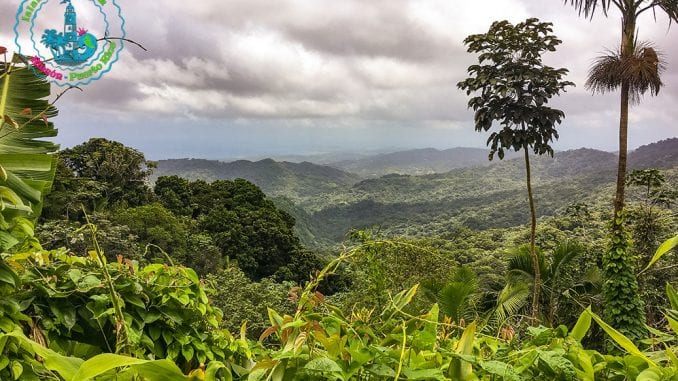 Puerto Rico is an amazing island surrounded by the Caribbean Sea and the North Atlantic and is home to some incredible natural elements. From many beautiful beaches, including Culebra in the east, to the celebrated surf waves of Rincón to the west. But probably one of Puerto Rico's greatest natural assets is that of the El Yunque rain forest.
The El Yunque National Forest, located in northeastern Puerto Rico on the slopes of the Sierra de Luquillo Mountains, covers almost 29,000 acres and is home to a diverse mix of animal and plant species and has no distinct wet or dry season – it rains year around. It encompasses two mountains – El Toro being the highest at 3,494 feet (1,065 meters), and El Yunque.
While you could easily spend a few days exploring this natural wonder, I recently took a day trip arranged by the folks over at Be Rincón. Like many people that go for the day, the itinerary included a little sight seeing and a hike down to the La Mina Waterfall – a popular location for visitors.
Driving from Rincón along the northern route, which includes toll roads, it took us just under 3 hours to get there. Another option considered a little more scenic, involves going south through Mayaguez, Ponce, Caguas, and then San Juan, but can take 3 to 4 hours depending on traffic.
Our first stop was La Coca Falls along Route PR 191. While easy to get to, parking can be a little tricky depending on how full the park is, so be patient and find a safe spot. There is usually a park ranger nearby to help guide you and make sure people get safely across the road.
The waters at La Coca drop 85 feet (26 meters) onto the rocks below – where people climb all over them to get pictures. The rocks can get wet and slippery so be careful if you venture beyond the roadside barrier. The large crowds along the roadside made it feel a bit crowded, but impressive nonetheless.
Our next stop took us to the Yokahú Observation Tower which stands 1,575 feet (480 meters) tall and is one of two observation towers at El Yunque. With a parking lot nearby and facilities, including a gift shop, it is the easiest to reach. A climb to the top (a relatively easy climb with room to stop along the way up and lots of windows) provides a 360-degree view of the surrounding area. On a clear day, you can see all the way to the coast.
From there we continued driving along PR 191 to the Palo Colorado Recreation Area. There we found ample parking (but it can fill up quickly on busy weekends), restrooms, picnic areas with covered structures, grills, and trash receptacles, a visitor center with information about the El Yunque National Forest, access to guided tours, and multiple trailheads including the La Mina Falls trail.
The trail to La Mina is rated "challenging" in difficulty by the US Forest Services, and I was very surprised, after completing the hike, not to see the point stressed more at the recreation area and along the start of the trailhead. On my way down to La Mina Falls, which is roughly 0.7 miles (1.1 km) in length and drops from 2,100 feet (640 meters) to 1,640 feet (500 meters) in elevation, I watched as many people, children and adults, struggled with the climb back to the top. While the hike down should be relatively easy to accomplish for most people, the elderly or anyone with heart health or obesity issues might find themselves struggling to get back to the top. Comfortable footwear should be worn, such as trainers or hiking sandals and be careful as the trail can get very slippery in places.
The path down provides exceptional opportunities to explore the La Mina River, as the trail crosses and recrosses over the river via small bridges, revealing many small cascading pools along the way where one can test the water temperature (COLD!). Or just sit and relax surrounded by lush tropical trees and take in the sights and sounds of the rushing river, and become engulfed in the beauty of the rainforest.
Once you reach La Mina Falls, you will understand why so many people make an effort to get there. The water flows over rocks and drops 35 feet (11 meters) to a large pool below where brave souls plunge into the cold water. On a hot day, it can be very refreshing.
Visitors spend the day lounging on the rocks at the bottom of the falls relaxing in the sun or wading in the surrounding pools beneath the bridge that connects La Mina Trail with Big Tree Trail. The bridge is also a good spot to take pictures of the waterfall.
When you're ready to leave, you can take Big Tree Trail back to the top, but it's easier to retrace your steps back up La Mina Trail and be back where you parked. Otherwise, you'll need to hike about a mile back to the La Mina Trailhead at Palo Colorado Recreation Area.
Recreation Area.
Visiting Puerto Rico's Tropical Rain Forest – El Yunque
Make sure your camera battery is charged (or your phone) because you will be clicking away. There are so many great pictures to be captured at the 3 stops mentioned in this article. But remember that the trail down to La Mina Falls can get slippery, so if you'll be carry expense gear, you might want to protect it in a padded backpack.
The park is open daily from 7:30 am until 6:00 pm when gates close, and the park is only closed on Christmas Day. Ranger stations are open 9:00 am until 5:00 pm.

Admission to the park and all the trails is free, but there is a charge to visit El Portal, the rainforest visitor center.
Remember to secure your vehicle when hiking and keep valuables out of site.
Additional Resources: USDA Forest Service