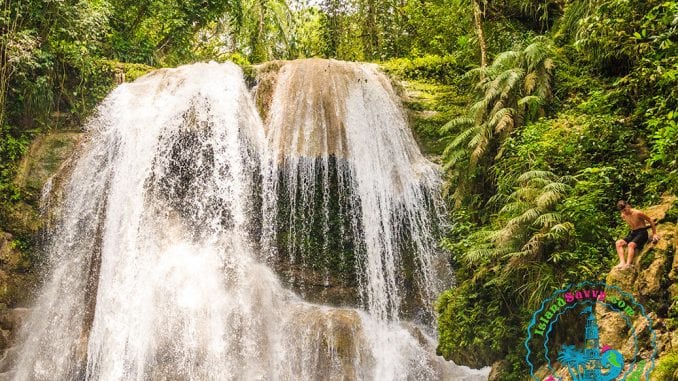 There are many fabulous waterfalls on the island of Puerto Rico, including the La Coca and La Mina falls in the El Yunque rainforest, to name just two. But if you're staying in or near Rincón, Puerto Rico, then you should consider going to the Gozalandia Waterfalls in San Sebastián – which makes for either a nice half day or even full day trip that's easy to get to and sure not to disappoint.
Located just north of the town of San Sebastián, and less than an hour east of Rincón, the Gozalandia Waterfalls, also known as El Charco de la Leche (The Pool of Milk), include three, easy-to-get-to pools. The first is a short 5-minute walk from the public parking facility that includes a bar and restaurant (open in season only) overlooking a pond, with a trail leading to easy access via wooden stairs and railing. This spot makes for excellent photo opportunities and a great place to just sit and relax.
But if you're looking for something a little more adventurous, a short hike upstream along a marked trail will bring you to a second and even more spectacular waterfall that includes a rope swing for deep plunges.
The trails are easy to navigate, although depending on the time of year, they can get a little muddy and slippery, so you're advised to wear something other than flip flops. If you're there during the rainy season, use common sense and keep in mind that flash floods can and will happen. If it starts raining hard, it might be best to pack up and head back to the parking lot. The hike to the second waterfall takes less than 15 minutes.
From Rincón, take Route 115 northeast to Route 111 east. In San Sebastián turn left at the Banco Popular onto the 446 north for ½ mi. (1 km). Turn right and cross over the bridge onto Sec Lechuza and follow it for 0.80 mi. (1.3 km). You come to an entrance with parking signs near the restaurant and pavilion. Entry to the waterfalls is free, but parking costs $5.
Gozalandia Waterfalls – San Sebastián, Puerto Rico
There are several great spots to get photos at each of the waterfalls, and along the paths leading to each. But be careful, as some areas can get slippery and you might have to do a little walking through running water or over rocks.
Access to the Gozalandia Waterfalls is free, but if you want to park close to the trail and restaurant, it will cost $5 per car. Be careful, and wear non-slip footwear. Gate open from 9am – 6pm.